FIGHTER / COACH
Lee Harvey
---
I joined team savage when many moons ago when I was this little shy bullied lad with a massive nose. At first I was a little intimidated of these monsters I was about to train with but after about 20 mins I no longer had that feeling and felt as if I was part of the family already.
9 years later I still have a big nose but am no longer shy and I've definately found my voice. I've been coaching the white collar boxing about 3-4 years now and have taken some beginner MMA classes. I really enjoy the coaching side and to see what people are like when they walk in on their first day to what they become only after a few months knowing I've helped is what really motivates me.
So if you have got this far down my gibberish and are looking at joining,building self confidence and becoming a better version of yourself please feel free to send a message and get your own journey started.
This coach focuses on the following methods and positions:
Amateur RECORD : 2-1-0 (NSAC)
Blue Belt in BJJ
Personal Info
| | |
| --- | --- |
| Nickname: | Badger |
| From: | Weston Super Mare |
| Fights Out Of: | WSM England |
| Age: | 30 |
| Height: | 6′ 1″ ( 185 cm ) |
| Weight: | 163 lb ( 74 kg ) |
| | |
| | |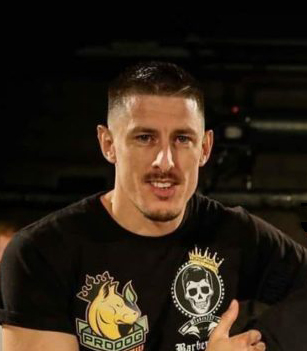 CLASS TIMES
Monday: 6:00pm – 8:00pm
Wednesday: 6:00pm – 8:00pm
Friday: 6:00pm – 7:30pm
Saturday: 10:00am – 11:00am
Prices:
Take advantage of sessions every day of the week plus the use of our gym equipment for only £55 a month or £7 a session!